What's Our Story?
Exigent started in a New Delhi suburb called Noida, with the ambition of providing a level of Artwork and Creativity that matched the best in Video Game Industry. Now, 17 years after, you could say we did exceptionally well. We have provided Artwork for many AAA Titles and have partnered with few of the biggest Video Game Publishers in the world. We've done this by listening and working closely with our clients to create beautiful, crafted and timeless Artwork, which are unique to each Game we work on !!!

Put our experience to work for your next Game. We invite you to learn about what we do, see what we've done, and get in touch.
Our Mission
Our Mission is to provide top notch 3d Artwork to our prestigious Clients and exceed their expectations by delivering Good Quality work on Time!
Core Values
Quality: What we do, we do the best
Client Value Creation
Employee Training and Job satisfaction
Respect for People
Transparency and Freedom to employees
Our Vision
To be the BEST Game art service provider, by giving outstanding Quality, Service and Value to our Clients.
Services
3D Game Art
You name it, we model it. Character, clothing, vehicles, weapons, manmade and natural environments, furniture and props...
3D Animation
No matter how perfect the character, it is the animation that puts life in them. Animation is an art form and we create MASTERPIECES...
Beautification
Beautifying a level means taking a basic and simple level that you've banged out for playability and turning into a real time...
Rigging
Human, creatures or animals... Great character animations start from the perfectly weighted and skinned rig. Rigging is an art form...
Mixed Reality
We at Exigent realised pretty early that Virtual Reality is set to become one of the most powerful medium in few years...
Concept Art
Large gaming companies find it tough to find good concept art for their larger development pipelines. That is where Exigent's concept artist...
GAllERY
Characters
Characters
Characters
Characters
Characters
Props
Props
Props
Props
Vehicles
Vehicles
Vehicles
Vehicles
Vehicles
Weapons
Weapons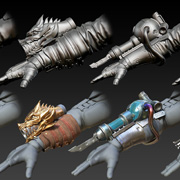 Weapons
Weapons
Concepts
Concepts
If you want to see latest samples please email us at: info@exigent3d.com
why us?
EXPERIENCE
With over 17 years of experience, Exigent is one of the oldest, most trusted outsource art provider in the World.
QUALITY
We are dedicated to constantly innovating and consistently delivering the highest quality AAA 3D artwork.
SECURITY
We follow and enforce best Security Practices. We educate our team on security. We got your back!
COMMUNICATION
We serve multiple countries, work 24 by 7, talk many languages and are fast and effective in communication.
INDIA-CHINA
We combine 2d art from China & 3d art from India as per your work pipeline and deliver the best quality artwork.
PASSION
Everyone working with us does their job with passion. We are full of talented, enthusiastic folks who enjoy coming to work every day.
We'd love to hear from you
Let's Talk Business
Your message has been sent. Thank you!
Our Featured Clients
Testimonials
It has been a PLEASURE to work with you during these six months. I wish you all the best guys. I'm PROUD to had worked with you.
Everyone here is always SUPER appreciative and thankful for the work you're providing to the game. It's always a pleasure.
Thank you and the team for your hard work! Working with Exigent was a pretty smooth and easy process.
Exigent delivers top notch work. I'm more than satisfied with your team's performance.
Exigent 3d has been a very reliable and trustworthy outsourcing partner for the last couple of years. They have a major hand in success of our games.
Exigent Game Art has delivered more than we had expected: top quality, reasonable time and best price. We highly recommend their Art services for publishers and developers looking to outsource Art for their upcoming games.
I've been working in the games industry for more than 10 years, and I have yet to run across an art production team that produces better results! Highly recommended!
Special thanks to you and your guys for the collaboration in creating our games. I hope you can appreciate the good quality achieved.
Exigent 3d has a team of seasoned Artists who are professional and prompt. It was a pleasure working with such a capable and qualified team. The deliveries were always on time, and communication was impeccable.
I finally found a bit of time to send you this, I wanted to thank you and your team for all the hard work this project. You really came through when I needed you too, and I really appreciate it. I look forward to working together again in the future.